Whidbey and Camano Islands are amazingly beautiful locations in Island County, Washington State. But there are some differences that impact which one suits you the best. One of the differences between Camano Island and Whidbey Island is that Whidbey has the only incorporated cities in Island County, there are three of them.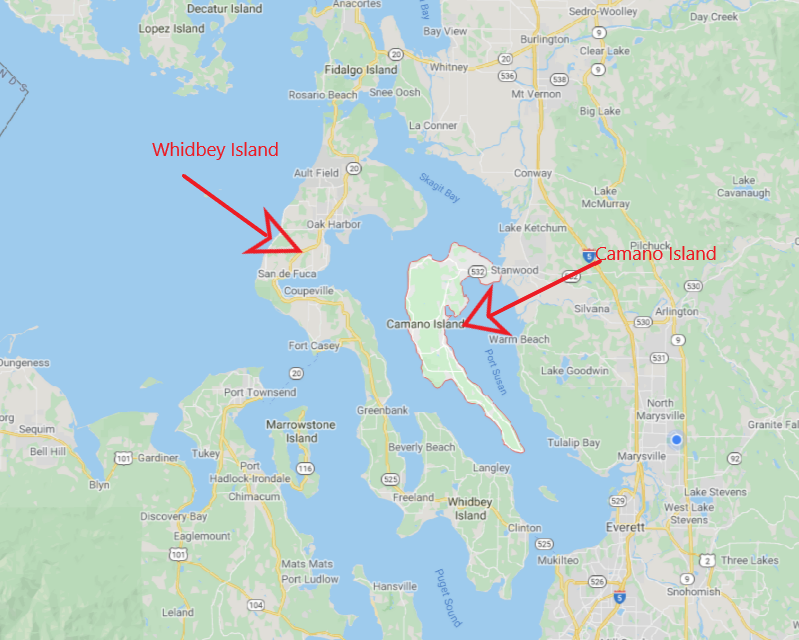 One is Oak Harbor where a US Naval base is situated just north of the city. That means there are more stores there to serve all our naval families but it also means there are the consistent sounds of jets taking off and landing. Camano Island is more relaxed; it has a quiet, more residential atmosphere. Camano does not have any incorporated cities but it does have small grocery stores plus one larger one, but then it's not far from Smokey Point, think Costco, Target, Wal-mart and the very attractive Seattle Outlet Mall. Plus the city of Stanwood with a variety of stores and businesses is only across the bridge.
More: Where to Live on Camano Island
Speaking of the bridge, one advantage of living on Camano Island is that it requires only a quick hop over a short bridge from the mainland on to the island. It is completely accessible by car, which for many is hugely positive. The trip from Seattle up to Mukilteo, where the ferry landing is to get to Whidbey, entails a 30-minute drive and then a 15 minute Ferry ride with a possible long wait for the ferry. You can take the northern route driving, but that can take 2-3 hours. When Living on Camano one never has to live by the ferry schedule.
For those concerned about medical care, having only a bridge to pass over and not wait for a ferry has its advantages. Some who had great health moved to more remote areas where medical care was not as accessible but had to move later where care was available when their health failed. So, living on Camano offers island life and yet the ability to easily drive to specialty medical appointments towards Seattle or Bellingham if the need is more than the local clinics on Camano or in Stanwood offer.
Both Whidbey and Camano Islands have their advantages, but when you're looking for a quiet yet beautiful island life experience, with the advantages of easy access to shopping, medical facilities, and larger cities, without ferry fees or all the waiting, Camano Island is an excellent choice.
More great things about Camano Island
Camano Island Area Information
Top Restaurants on Camano Camano Island Wildlife Do you need a ferry to get to Camano? Renting on Camano Beach days on Camano Best things to do on Camano Camano Weather Best Hikes on Camano Where to live on Camano  Camano Commons