Whale Watching
One of the best things to do on Camano Island is to go whale watching. Who knew that even in Camano Island's quiet waters that whales would be found. From late February to early June it is possible to go Whale watching to find a few of the 300 Gray Whales, who travel from Baja to Alaska every year. The ones seen from Camano Island found the secret stash of ghost shrimp in the local waters and sneak back each year. A great story that tells about two particular characters who return consistently for the ghost shrimp feast (Gray Whales) can be found at Discover Stanwood Camano. One way to get on the water, but not too close to the whales, is to take out a kayak. The water around Camano Island is usually calm so it's a perfect activity for both beginners and the experienced. Rent a kayak at Cama Beach State Park.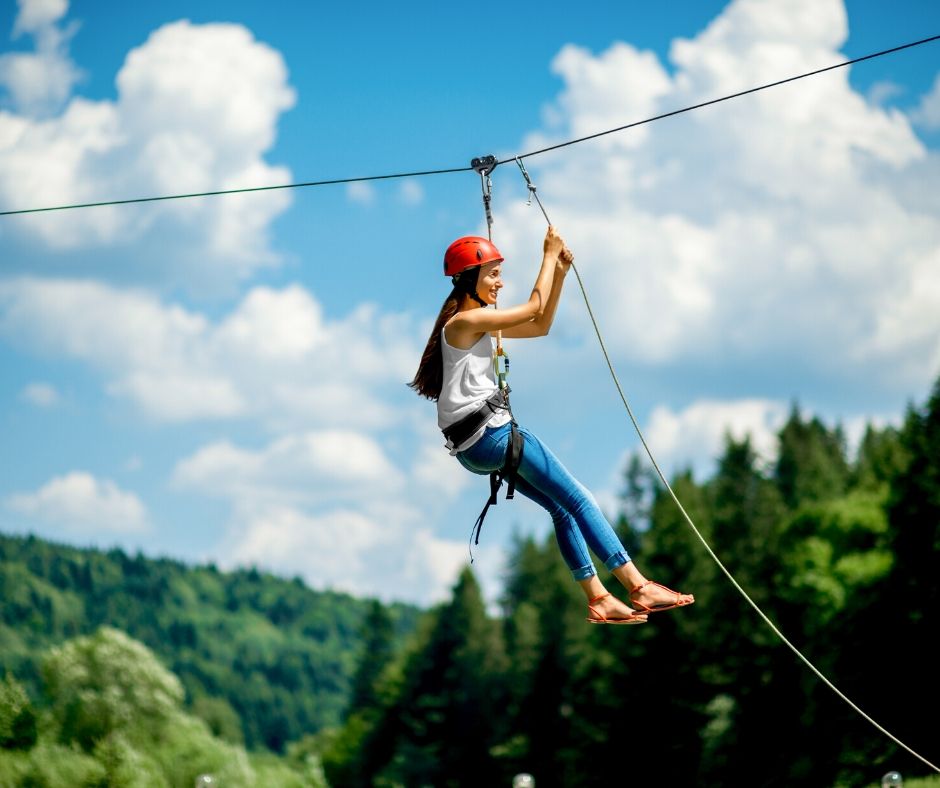 Zip Line
For those with a more adventurous bent, you'll love the zip line at Canopy Tours NW.  There are 6 zip lines to choose from, 2 short nature hikes, but also there's a Unimog to ride in through the forest, too! What is a Unimog? That's what I had to find out. A Unimog is a multi-purpose all-wheel drive truck where, at Canopy Tours NW, guests get to sit in the back while touring around. One thing to know is there is a weight restriction…but they promise they won't tell others your weight. "Guests must weigh between 65lb and 300lb and youth 12 years old and under must be accompanied by an adult." So kids can go but only if they're over 65 lbs and with an adult. After taking a zip line tour another challenge would be to go to Arrowhead Ranch (https://arrowheadranchcamano.com/axe/) to try your hand at ax throwing. Their rules go like this: "1. Be safe 2. Have fun 3. Dream big". Sounds good! It is Camano Island's "first ax-throwing venue, and the only member of the World Axe Throwing League in the state of Washington."
Glass Quest
One of the events hosted by local businesses on Camano Island and Stanwood is the 10 days Great Northwest Glass Quest. This allows those who like treasure hunts (the perfect thing to do on an island!) to traipse around the island and Stanwood to different businesses searching for clue balls to win the elusive and limited edition glass-blown balls. This quest was created by a local glass blowing artist who is well known for his special effects and now his son has also joined him in this unique art form
Stanwood and Camano are very interrelated so what happens in Stanwood is also a part of Camano's events. From the Glass quest to the annual Stanwood-Camano Community Fair in early August, with its small-town parade where young and old participate, there are many adventurous and family events to enjoy.
More great things about Camano Island
Top Restaurants on Camano Camano Island Wildlife Do you need a ferry to get to Camano? Renting on Camano Beach days on Camano Best things to do on Camano Camano Weather Best Hikes on Camano Where to live on Camano  Camano Commons