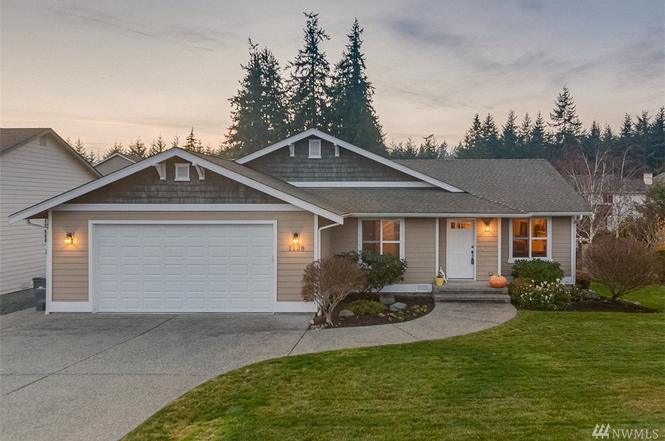 2020 is shaping up to be a hot real estate year for the Camano Island area as sales remain strong and inventory dwindles. Even though December is usually a slower time for real estate sales due to the holidays, there are still plenty of buyers looking for a property on Camano Island. In November 2019 there were 75 pending sales in the Stanwood and Camano area, which was 36% more than last year at this time. The whole Puget Sound region is increasing to the tune of nearly 10% over the last 12 months and Snohomish County has jumped nearly 12%. But, as inventory dwindles and fewer homes are listed, values tend to go up and there are plenty of buyers vying for the same house, which makes the competition even fiercer. [Source – GoSkagit]
The pressure to buy before winter really sets and is what's driving the housing market on more affordable and mid-range priced homes. On Camano Island, the median sale price is about $490,000, quite reasonable for the Puget Sound area. In Stanwood, the median price is $428,000, slightly down from October. But, throughout the Stanwood and Camano real estate market, there were 151 homes for sale in November down from 176 in 2018 at the same time.
Many people that work in Seattle or even Everett are choosing to live farther out in places like Stanwood and Camano Island where the homes are more affordable even though driving is the trade-off. Many buyers are going north, south, and even East to find homes that fit their lifestyle and their budget.
According to many real estate websites, the Camano Island housing market is hot right now in favor of sellers. The median home value index according to The lowest $483,000 with the average sales price being about $592,000, up 33% over last year at the same time. This is about $234 per square foot on average, which is actually down nearly 3% from last year surprisingly.
Good news for sellers:
it's a great time to consider selling your property on Camano Island. Competition is fierce, home values are increasing throughout the area and if you want to get the best price, consider listing before spring. Those that don't have to list may wait, which causes more competition, more homes on the market, and less demand.
Top Restaurants on Camano Camano Island Wildlife Do you need a ferry to get to Camano? Renting on Camano Beach days on Camano Best things to do on Camano Camano Weather Best Hikes on Camano Where to live on Camano  Camano Commons