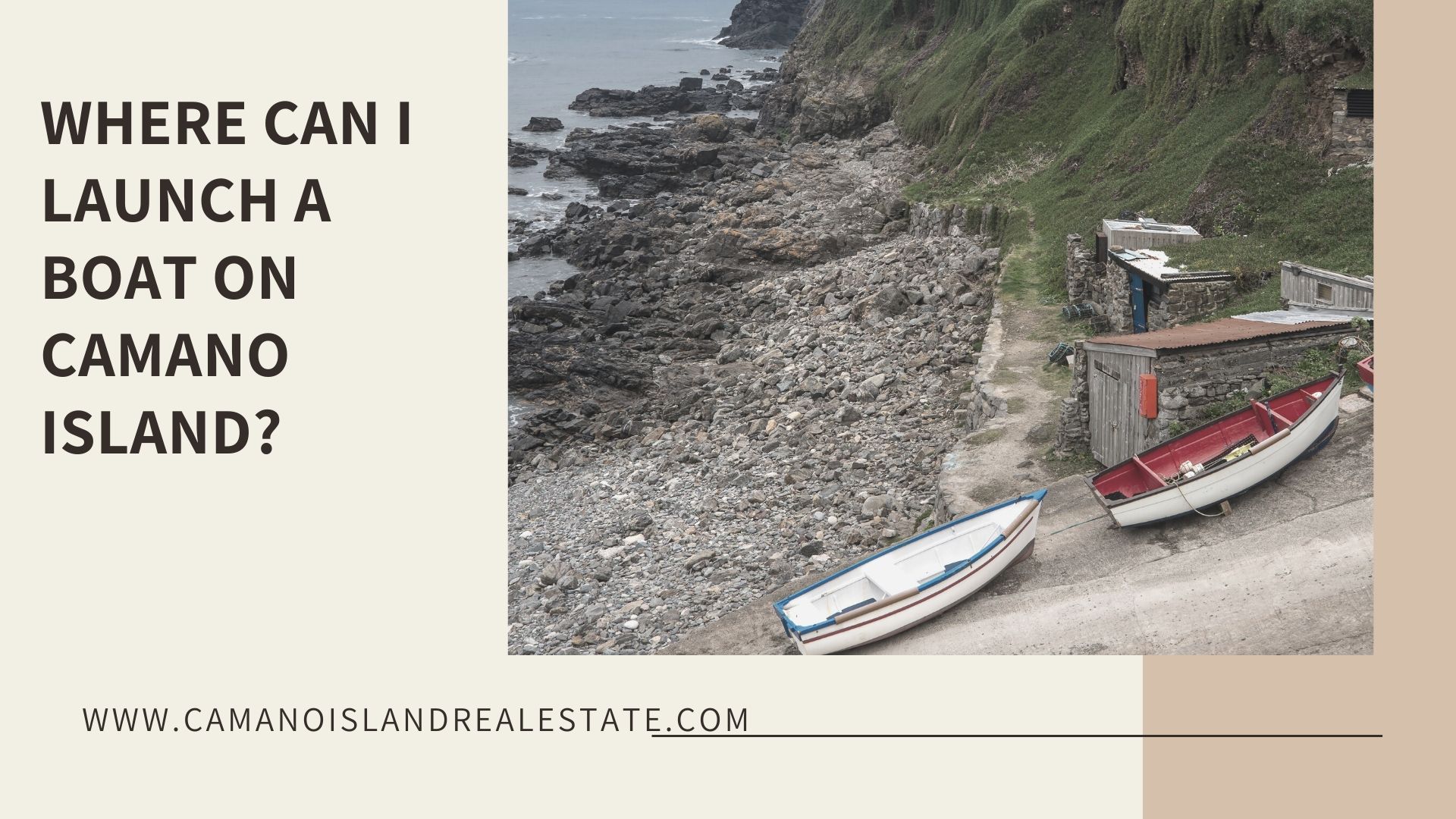 One of the great benefits of living on and around Camano Island is the water. The island is surrounded by bays and straights, all part of the greater Puget Sound which has abundant marine life…think fishing, crabbing, and more. Camano Island has fishing available during every season: from Salmon in the Winter, Spring & Summer; to Lingcod, Dolly Vardens & Cutthroat in May/June; to year-round flounder, bottom fish and Sturgeon. (https://camanoisland.org/about-camano/)
To enjoy all this marine life on your boat or if you love just getting out on the water, there are a variety of boat launches right on the island ready to accommodate you. Taking the Stanwood-Camano Island exit (212) west from I-5, the drive is only about 30 minutes to most of the boat launches during low traffic times. And you won't need to ride a ferry to get on this amazing island as the mainland and Camano are connected by a short bridge. So easy and no ferry fees.
The Camano Island boat launch system has both state and county launches. Both have different fees and rules as you will note below. The state park has a double dock whereas the other launches do not have docks. If you are a resident of Island county you receive discounts for annual and daily launching fees at all county boat launches.
Here's some helpful information about Camano Island boat launches:
Camano Island State Park: 2269 Lowell Point Rd, Camano, WA 98282
Launching a boat at a state park requires one of the following:
An annual launch permit (Natural Investment Permit)
An annual Discover Pass and a daily launch permit
A one-day Discover Pass and a daily launch permit
The boat launch fee at any Washington State parks is $7 per day for island residents and non-residents. A more affordable option is to purchase a Natural Investment Permit, which is valid for one year from date of purchase. The fee is $80. (https://parks.state.wa.us/165/Boating-fees)
Washington state also offers discounted passes for some senior citizens, disabled veterans, and people with disabilities (Passes.).
Utsalady boat ramp: 2998 Utsalady Pt. Rd., Camano Island
Directions: From Terry's Corner (the "Y"), follow North Camano Drive for 3 miles. Turn North on Utsalady Road, approximately ¼ mile. Find this boat launch at the end of the road. Please be respectful when launching and enjoying the mountain and water views plus the picnic area as neighbors live close by.
Utsalady Vista: 398 Shore Dr., Camano Island
Directions: From Terry's Corner (The "Y"), follow North Cama​no Drive for 3 miles. Turn north on Utsalady Point Road to large brown Historical sign. Park on the left of the sign. The area boasts a  view of the Cascade Mountains, Whidbey Island, Skagit Bay plus a picnic area. However, parking is very limited.
Maple Grove: 1139-1131 Beach View Ln, Camano Island, WA 98282, USA
Just a short way south of the Utsalady launches there is another launch at Maple Grove. The launch is a single lane concrete slab that is usable to something close to a minus tide – again how close to a minus tide depending on the size of the boat (the bottom flatten outs at the end of the concrete) but you should be good to go at least a 2 foot plus tide. (https://www.gamefishin.com/threads/puget-sound-camano-island-boat-launch.37406/)
Cavalero Beach: 1013 Simonsen Pl., Camano Island
Directions: from Terry's Corner (the "Y"), follow East Camano Drive for 5.5 miles. Turn East on Cavalero Road, and follow the signs to this county park. Because the access has close neighbors all launch users must respect the surrounding private properties
The Island county boat launch fee system can be accessed from the internet now for your convenience. Purchase daily or annual boat launch passes for the two Utsalady launches, Maple Grove, and Cavalero boat ramps. Or pay at the sites with cash or check.
From the Island County Website:
 Residents
Annual Pass $30.00 – valid July 1st through June 30th
Daily Pass $5.00 per day (valid only for specified launch date)
Non-Resident Fee
Annual Pass $90.00 (valid July 1st through June 30th)
 Daily Pass $15.00 per day (valid only for specified launch date)
*A minimum $2.00 fee will apply to purchases up to $80.00 and a 2.5% fee for purchases $80.00 and above.
Click on the following link to create a new account or log in to an existing account.
https://co-island-wa.smartgovcommunity.com
If you need assistance, please contact the Public Works Department at 360-678-7960
Check out all about Camano Island Beaches Here