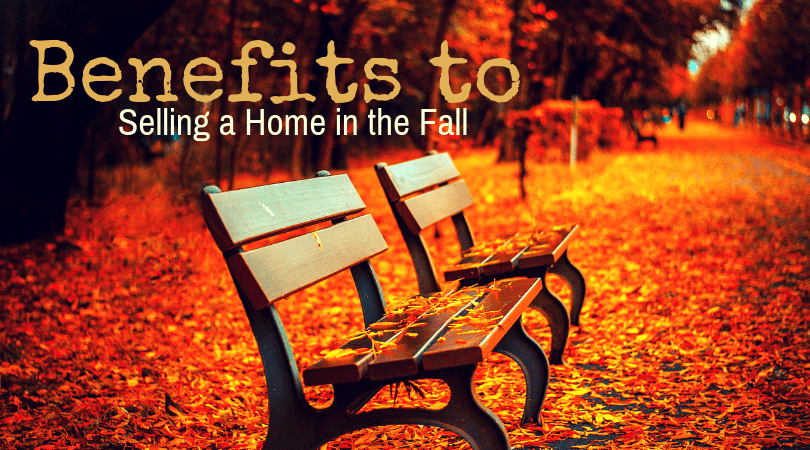 Around the country, fall is starting to show up in neighborhoods and on the trees and many of us enjoy the comfortable weather and the cooler temperatures more than in the heat of summer. There are many people that choose to sell their house in spring and summer because kids are out of school and it's a good time to relocate, but there are also some great advantages to selling in the fall.
Here's my list of the 5 Benefits to Selling Your Home in the Fall
#1. Tax breaks.
As a buyer, if you close on your new home before December 31, you might get a nice write off on your taxes. Property tax and mortgage interest are both productions you can take for a whole year's worth of income even if you closed on your home in December. There are potential tax breaks for sellers as well. You can include all sorts of selling expenses as deductibles increasing your adjusted cost basis, which decreases your capital gain. It's important to talk to your accountant or financial advisor about the tax benefits you could achieve by buying or selling in the fall or winter.
[Read More: Is it better to have multiple agents sell your house?]
#2. Prices are better.
For buyers, prices are excellent in the fall and winter but for sellers, you won't have a lot of looky-loos wasting your time. Most of the buyers in fall and winter are serious buyers, ready to make a deal and move quickly.
#3. It might be a safer time of year.
Just as there are peak seasons for activities, burglars and crime have peak seasons as well. July and August are prime months for burglaries to take place so into the fall, especially if you have a vacant home, gives you a bit more advantage to the safety aspect of selling.
#4. You can find great deals.
Whether you are buying or selling, fall is a great time for staging, furnishings, and home decorations. You can really fix up the home for sale or furnish a new home if you've recently one. Consumer Reports has a full list of the best times of year to buy everything and don't forget, holiday sales and Black Friday sales are just around the corner.
[Read More: Should you buy first or sell first?]
#5. Less competition.
There are usually fewer homes on the market but there are also fewer buyers out there competing for the same home. This gives buyers an edge. Also, let the mentioned before, sellers won't have to waste their time with a lot of nonserious buyers. Competition for houses drops in the fall but there are still plenty of homes for sale and it's a good time to consider selling, as you won't have as much competition with buyers either.
If you're planning on buying or selling throughout the fall season Camano Island or surrounding areas contact our office today. We'd love to give you an updated assessment of the valuation of your home and find out how quickly it could sell.
More Advice for Home Sellers:
5 Things to Expect From Your Real Estate Agent From Bruce Simon
4 Questions Home Sellers Have From Kenny Raymond