Tuesdays from 3pm – 7pm  Farmers Market at the Camano Commons Marketplace.
Downtown Camano Island at 848 N Sunrise Blvd is the amazing Camano Commons Marketplace. The marketplace is centrally located and a great place to grab a bite to eat, shop and enjoy the many events year round. For instance, the Camano Kids Festival is held every August with presentations, petting zoo, art activities, food and more.
The Farmers Market is one of those great events all summer long running from June to October. You'll find music, food and of course, all the yummy offerings from harvest time. Our produce is always better from the farmers market like home-grown carrots, herbs, tomatoes, radishes and cabbage. Here's a great recipe you can use.
Balsamic Salmon on Mashed Cauliflower.
1 lb. fresh salmon (wild if possible)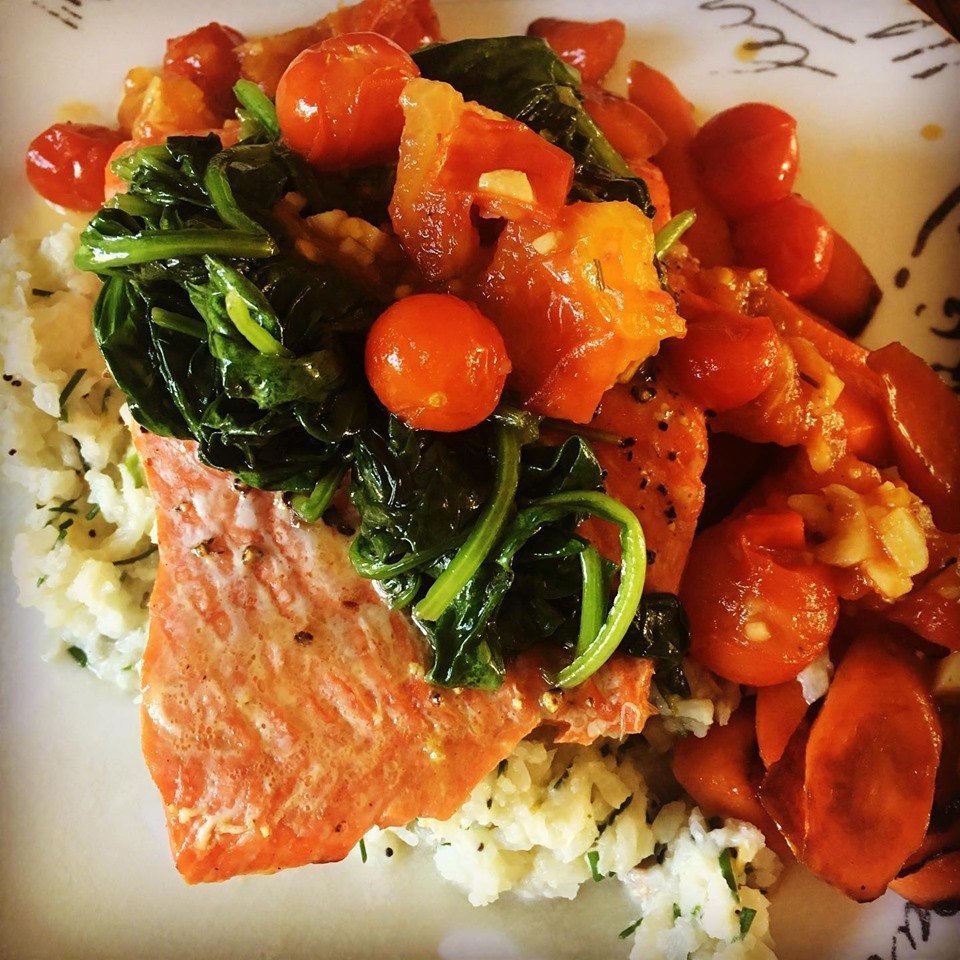 1 head cauliflower
Bunch of fresh herbs, chives, parsley, basil, thyme
small carrots, a variety of colors if possible peeled and prepped
A bunch of cherry, grape, or miniature tomatoes in all different colors
Fresh spinach
1/4 cup balsamic vinegar
1/4 cup maple syrup
1/4 cup orange juice
3 cloves of garlic minced
1 Tbl butter
2-3 Tbl heavy cream
salt, pepper, oil
In a small saucepan bring the vinegar, syrup, orange juice, and garlic to a boil and boil for five minutes. Set aside.
Chop up the cauliflower and steam or boil in water until soft. Drain. Add in 1 tablespoon of butter, 2 tablespoons of heavy cream, and the chopped herbs. Mash to the desired state.
Slice up carrots into bite-size pieces and sauté in butter with 2 tablespoons of the marinade until tender and caramelized. Remove from the skillet and set aside. In the same skillet heat oil or butter, add tomatoes and cook until just soft. In a clean skillet, heat 2 to 4 cups of spinach with a little bit of lemon juice/white wine/water until soft. Season with salt.
Cut the salmon into four equal pieces and sprinkle with salt and pepper. Brush salmon with the orange juice mixture and put on a well-oiled, hot grill until the internal temperature is about 130° or medium-rare.
Plate to the dish. Put a good amount of mashed cauliflower on the plate. Top with the salmon and sprinkle carrots and tomatoes around the dish and top the salmon with spinach. Pour any remaining marinade over the salmon.
What are you making with farmers market goodies? I'd love to know!