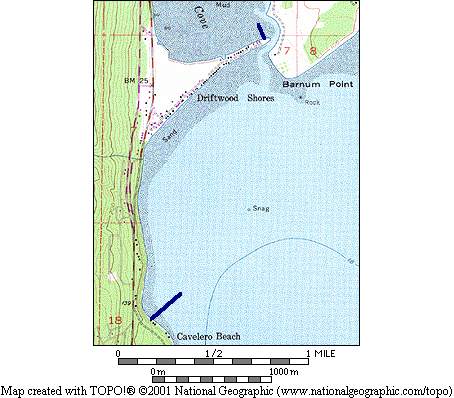 The afternoon was overcast, with a breeze, but quite warm and no rain. Driftwood Shores is very apply named! The houses are packed closely together right on the beach with almost solid bulk heading of one sort or another. There were several boat ramps cut into the bulkheads, but the drift was piled 2-3 feet on top of the toe of these bulkheads, making it nearly impossible to tell their actual extent. The beach is one long tangle of LARGE logs piled every which way. Reminded me of a giant Pick-up Sticks pile! This made rather slow going and required considerable offsetting. We only encountered one couple, who came out and chatted.
As the beach curved south, we got out of the worst of the driftwood, and the bank steeped considerable, so most of the houses were set back up on the top of the bluff. There were a few interesting walk-in little cabins set down close to the beach. We talked with the lady at one of these cabins and learned her father had built the cabin 60 years ago. She also gave us interesting history on the beach's erosion. We had just past a very large erratic (rock) on the beach, and she related that 30 years ago it had been connected to the bank. This would mean erosion of 10-20 feet in that 30 year period.
The rest of the beach down to the County park showed quite a bit of bank erosion of the steep bank. We had the company of a number of eagles, both riding the currents, and perched in the trees.
At the end of the Driftwood Shores spit, at the mouth of Triangle Cove, there were at least 5 eagles perched in trees along the narrow inlet, just waiting for dinner to swim by. Easy fishing!